Portable Kettlebell Review #pkb
PKB The Portable Kettlebell Review
I recently had the opportunity to review the 15 lb. Portable Kettlebell from PKB. I couldn't wait to use it, so as soon as it came I filled it with playground sand. It's made of sturdy material and the compartment you fill closed with a double fold and a clips into place. The handle is strong and it doesn't seem like it would break. It fit the 15 pounds of sand perfectly. The handle is secure and well-placed for both two hand and one-handed exercises. It feels great with 15 pounds of sand, I'm able to get my hand around the handle and perform kettlebell exercises.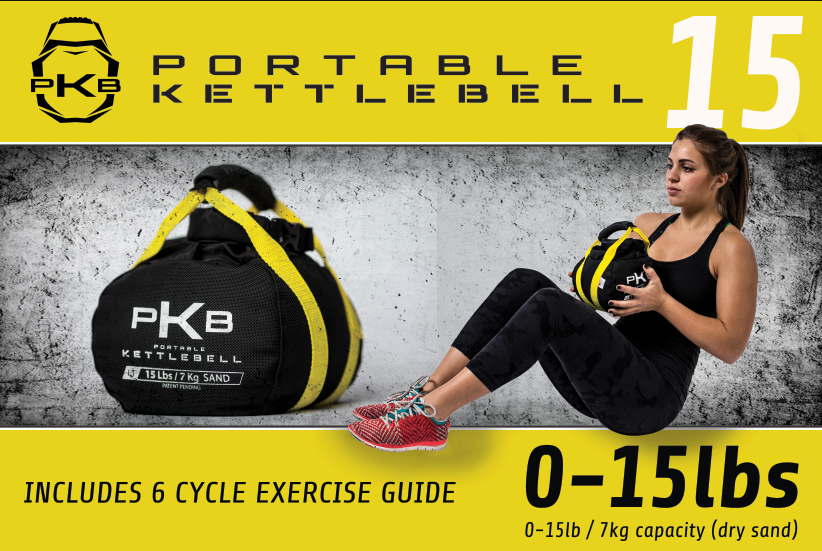 You can get the PBK Portable Kettlebell in different weights on Amazon.

Product Description
BEST KETTLEBELL WORKOUT! Great for new users, home training, boot camps, young athletes, and women.

Use at home! It's small and compact, the material is safe for all flooring.

Comfortable Handles! NO ROUGH EDGES to cut up your hands and wide enough for two handed grip.

KETTLEBELL ON THE GO! Take the empty kettlebell set on business trips and vacations and fill with anything around!
The Most Versatile Kettlebell Set On The Market!
This Portable Kettlebell from PKB is without a doubt the answer to your kettlebell training questions.
Portable? Take it anywhere! At home or on the road, inside the gym or outdoors. When finished, the PKB empty weighs less than 10 oz. and can be rolled up and packed up for travel on vacation or for work.
Adjustable? Choose your weight! Fill the PKB up with sand, water, dirt or rocks with sizes and weights ranging from 0 – 45lbs. Perfect for the beginner to the seasoned kettlebell enthusiast.
Versatile? More than a kettlebell! The PKB can be used as a dumbbell, weighted ball and more allowing you to create full body workouts with one piece of equipment.
Safe? Designed to protect! The PKB can be dropped and tossed without destroying you or your surroundings, within reason of course!
Key Features
• Handmade of Ballistic Nylon: Puncture, tear, abrasion resistant
• Use just about any filler: dry or wet sand, pebbles, gravel, dirt, mud…
• Webbing reinforced: 1,800lb+ tensile strength
• Includes a 4″ X 3″ swath of loop velcro to personalize with patches
• Made in the U.S.A.
Reviews from Real PKB Users
• a lot harder than training with iron!
• A plus is that it's soft, so it doesn't beat up my arms when I press with it. It does exactly what I wanted.
• Love traveling with these! We travel to mostly beaches so I can fill them up easily and get in just as intense of a workout as if I were in the gym. I even use them for training clients outside!
Don't miss out on your chance at the greatest kettlebell training available! Get your Portable Kettlebell TODAY!
Try It Now 100% Risk FREE With Our Money Back Satisfaction Guarantee!