Maxasorb Vitamin D3 Cream Review #MaxasorbD3Cream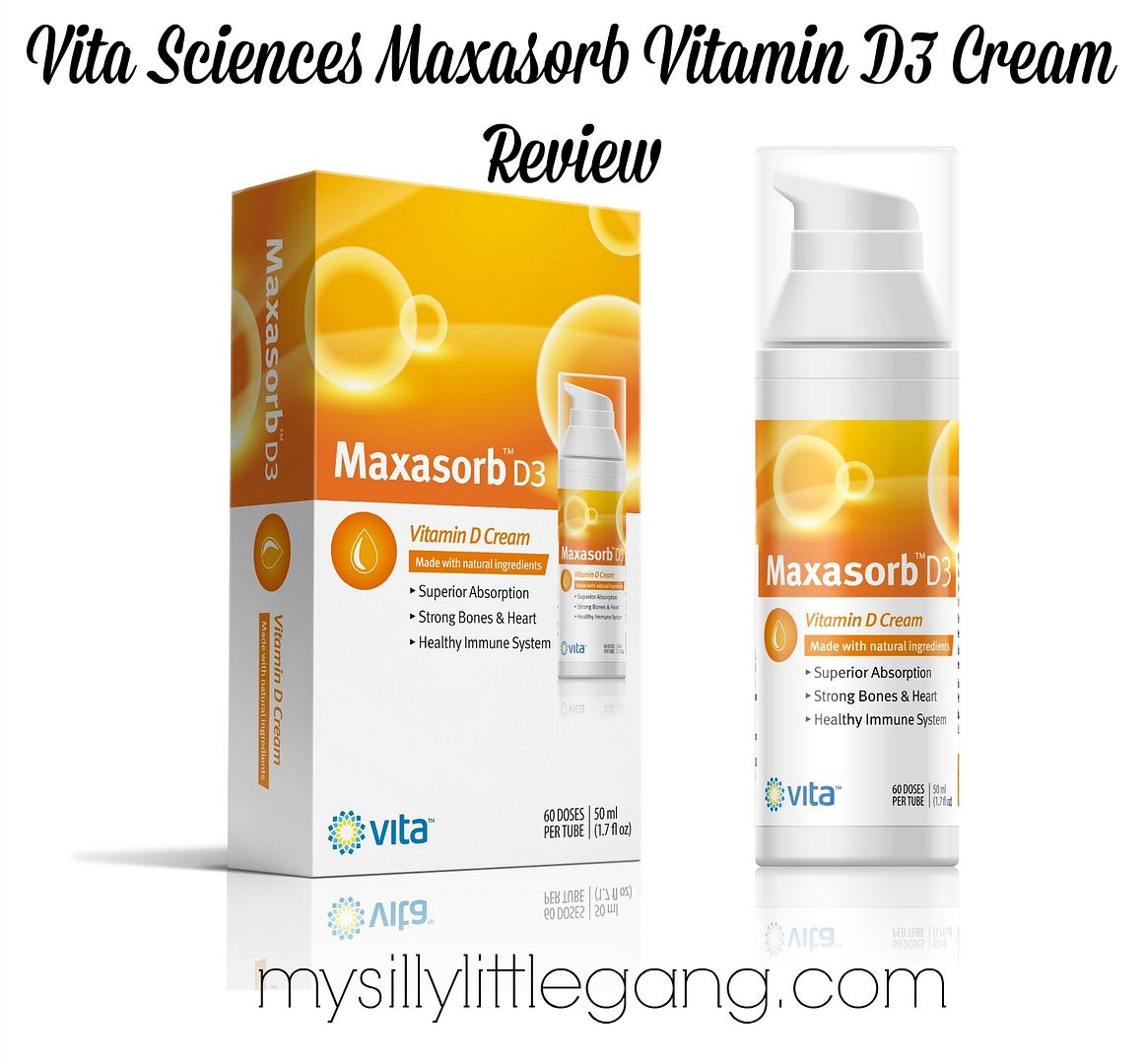 Vita Sciences Maxasorb Vitamin D3 Cream
I have had a vitamin D deficiency for at least 15 years now. Daily I have to take a vitamin D supplement and then every 3 months I have to take a higher dose to regulate the amount of vitamin D in my system. Unfortunately this is not the only pill I have to take and therefore I dislike having to take pills. So when I heard that there was a way to get my daily vitamin D without having to take a pill I was very eager to try it out. When I received this cream I couldn't wait to try it out, but I had to because I had already taken my supplement for the day. The following day I used this cream. I was surprised to see how well my skin absorbed it. It didn't leave any residue either. I love how easy it is now to have my daily dose of vitamin D! I added it to my morning routine and that's how I make sure I don't forget. I haven't had any skin reactions either, so I'm thrilled. This is definitely a product that I will continue to use and recommend.
Vita Sciences Maxasorb Vitamin D3 Cream is available to purchase from the Vita Sciences Website and on Amazon.

Product Description
Maxasorb D3 is scientifically formulated to topically delivery Vitamin D3. Similar technology as our patented B-12 Patch is used in this skin soothing lotion. Each measured dose of lotion from our airless dispenser delivers 1,000 IU of Vitamin D3 with a full press of the pump. Rubbing the easily absorbed, odorless lotion on your arms or legs makes daily use of Maxasorb D3 an ideal way to get all the Vitamin D you need. Natural ingredients assure this lotion is gentle to your skin.
EASY TO USE – Using the pump dispenser, press down once for a single dose of
nourishing lotion; Each dose delivers 1,000 IU of vitamin D3 per measured dose.
GENTLE ON THE SKIN – Our scent-free hypoallergenic lotion is gentle on the skin,
odorless, nonirritating
ALL NATURAL INGREDIENTS – Maxasorb D3 lotion uses only natural, safe ingredients
MAXIMUM VITAMIN ABSORPTION – Maxasorb D3 is scientifically formulated to topically
delivery Vitamin D3.