Hyaluronic Acid Serum Skincare for Men Review #SkincareforMen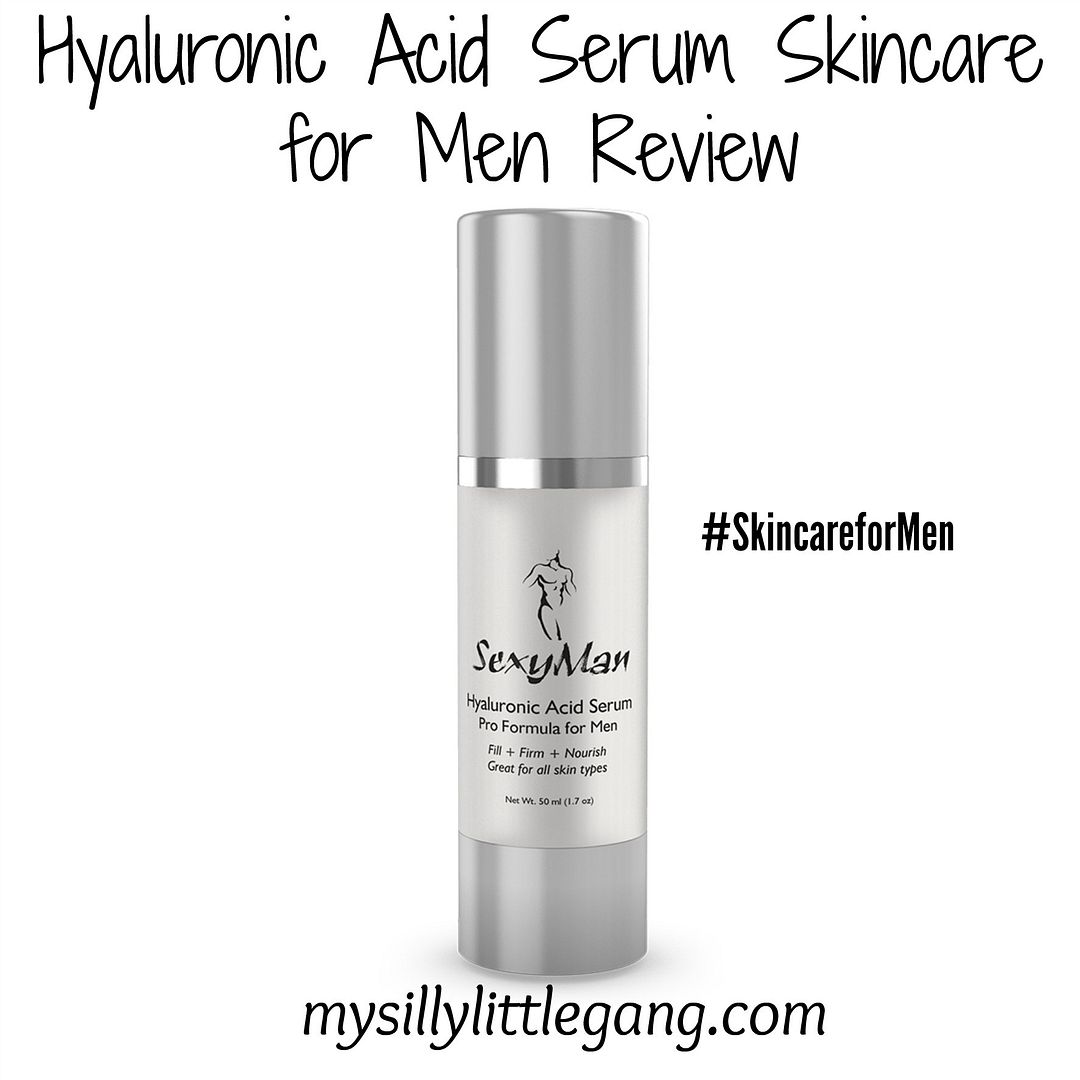 Skincare for men: Hyaluronic Acid Serum
My hunny has always complained about dry skin, especially during the winter. Which is why I was excited to have him try out Sexy Man brand Hyaluronic Acid Serum for men. I use this serum and have seen wonders with my skin. After using it for 2 days we could see his skin softer and more hydrated. It no longer looked dull! After using it for about a week, his skin was brighter and firmer. This product works great and he's very happy with the results. We absolutely recommend it.

You can connect with the Sexy Man brand on their website, Facebook, Twitter and Pinterest.
Product Description
Our formula has just the right amount of active ingredients to moisturize your skin whilst stimulating collagen to tighten and brighten your skin.
SexyMan (Made in the USA.) is produced in Small quantities to ensure purity and quality.
Rich in Anti-oxidant with Vitamin C, D, E, MSM, and other carefully chosen organic herbs for skin smoothening, it is also Paraben-Free, Petrochemical-Free, Silicon-Free, Phtalates-Free, Sulphates-Free
No Dyes and Fillers.
What is Hyaluronic Acid, a component of SexyMan?
Hyaluronic Acid effectively binds water to cells and is responsible for production of collagen and elastin which at the same time has positive influence on the skin's elasticity and resiliency and skins ability to regenerate.
It has the ability to hold up to 1000 times its weight in water.
It is an ANTI-AGING Property SUITABLE FOR ALL SKIN TYPE
Each small batch is backed by a Certificate of Analysis available upon request.
It is highly Recommended for aging, dry, rough, patchy, blotchy, flaky, sagging, uneven, dull skin.
It can be used morning and evening, once or twice a day.
Apply regularly for maximum result.
BENEFITS
Boost your confidence with a brighter, softer and healthier skin




Facelift without injection. Lifts and firms sagging skin with continuous use




Get a Lively Appearance with NO MORE dull, rough, flaky skin




Less Visible pores and even out skin tone




Safe for sensitive skin,




Diminishes redness




Balances oily skin while moisturizes dry skin




Fills in and may diminish the look of fine lines and wrinkles.




Crows feet, forehead lines, smile lines and other facial lines appear much smoother.




Lighten dark under eye circles from lack of sleep and too much caffeine




Lightweight and Non-Greasy Formula. No icky feeling
Our formula contains high quality ingredients that works to give you healthy, balanced, youthful




and yes, glowing skin.

GUARANTEE: We back our products with a 90-day Hassle-Free Money Back Guarantee.